MARO MARU TUOO
Violin: Mika Gomyou
base: Hidemaro Iwakiri
piano:Fumio Kato
drum: Keiichiro Uemura


- A basic organization is a quartet of the violin piano base drum. Additionally, I will correspond according to hope by the following styles. (violin piano base/violin guitar base/violin piano guitar base/violin guitar basic percussion/violin piano base percussion)
They are a unique companion "Mika Gomyou" and "Malo. There music of all genres is splendidly expressed in the frame only of jazz without astringency Makoto around an original number of post-Akemiakemimica.
There Gentleness and strength, and it is a still novel however and nostalgic somewhere groups that are related to the originality sound and overflow in human touch even where magnificent violently at times. Moreover, the nursery rhyme original arrangement series is a standard of live.
There is one of the popular menus as well as the post-version arrangement outside Akemiakemimica original number and the standard fantastic idea heaven. The violin to which power is improved listens further more, answers, and : enough. Each desire is put in an individual sound, and irregular, live "Violin JAZZ NIGHT" is being performed enthusiastically in various places this year. A new album is released, and it will keep acting for further development in the future.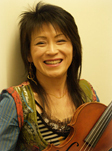 Presider: Mika Gomyou
She was Fukuoka Prefecture coming from. She was Musashino College of Music instrumental music department graduation. She Tsc style is sensational in each district. outside the fantastic idea heaven of wide music and abundant powers of expressionIt listens to a wide sound from an original number to pop and standard jazz not to mention classics regardless of the genre.
She A lot of domestic and foreign musicians and co-starring. Additionally, the place of the activity of appearance, the recording, and FM radio talk show appearance etc. of TV and CM is wide. The arrangement and the composition, etc. are handled aggressively, and it is paid attention as an all-round player.

Part of the PLAY LIST
-classics
Mozart
Bach
Tchaikovsky
-popularity
AMAZIN GRACE
UNFORGETTABLE
STAND BY ME
-J-pop
Boyhood
First Love
It is only one flower in the world.