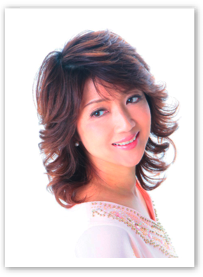 NAKAYAMA,Ikuko(Vo)
Studied classical piano at Senzokugakuentankidaigaku music department.
While working as a singer of CM song in Shizuoka City home, the NHK Shizuoka FM after graduation
To serve over two years the personality of the "moment of last night" music program.
Around this time, I started to sing jazz on his own.
Re-moved to Tokyo in 1991, started his activities in earnest in the house and live in Tokyo.
Among them, the House InterContinental Hotel Tokyo Bay "Sunset Lounge"
Appearance as a vocalist ranged from more than 10 years.
Owner of a wide range of repertoire and pop jazz, bossa nova to.
Released first album "Stories of Love" in 2000.
Also, learn the shamisen Nagauta and piano from a young age, and familiar with traditional Japanese music and Western music
That it was possible, has led to the vocal style of its own that was slow honest current.
Has a reputation for certainty of pitch, voice a sense of transparency gently is supported by many people across the generations.
In addition to the music of a foreign language to date, and as a new field recently
Began an emphasis on Japanese songs, the spread of its activities are expected.
Released second album "Gift" in August 2012.