HAPPY TALK -String Quartett-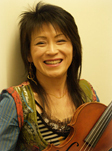 Presider: Mika Gomyou
She was Fukuoka Prefecture coming from. She was Musashino College of Music instrumental music department graduation. She Tsc style is sensational in each district. outside the fantastic idea heaven of wide music and abundant powers of expressionIt listens to a wide sound from an original number to pop and standard jazz not to mention classics regardless of the genre.
She A lot of domestic and foreign musicians and co-starring. Additionally, the place of the activity of appearance, the recording, and FM radio talk show appearance etc. of TV and CM is wide. The arrangement and the composition, etc. are handled aggressively, and it is paid attention as an all-round player.

They formed in 1989. They are groups of four people that are skillful in jazz and popularity by an original arrangement. Especially the sounds of ballade gets a reputation,They could listen us a damp adult sounds.

They has a wide repertoire from standard jazz to an original number, the popular song, and the nursery rhyme not to mention classics, and they are taking an active part by the party, the event, and many fields of a bridal so on.

Moreover, they also have a lot of co-starring with an overseas musician such as "Ray Charles" and "Dionnu Warwick". They are holding the salon concert positively, and are continuing a long-lived activity.


Part of the PLAY LIST
-classics
Mozart
Bach
Tchaikovsky
-popularity
AMAZIN GRACE
UNFORGETTABLE
STAND BY ME
-J-pop
Boyhood
First Love
It is only one flower in the world.