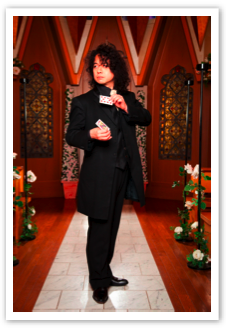 FUJIMOTO,
Akiyoshi
Profile
(Magic Castle magician members)
Two acquisition Meisei University, Faculty of Science and Technology, Department of Electrical Engineering, graduation information processing test
1. Corresponding Magic
Technique-based comedy magician with cards, coins, balls, etc..
Magic from the table to show in front of your eyes of 2-3 people about
Available up to stage magic to show you customers about 200 people.
Contest number of wins in Japan. World tournament number
I will also show off material that can not be absolutely in the other magician.
Please enjoy the technology of threats that were evaluated in the world tournament.

Performance
(SAM National Convention organized by Japan) # 1 August SAM Sendai tournament stage sector 1995
(National Convention grain teacher sponsored) meeting 1st grain Cup victory to enjoy the magic May 1996
# 1 August SAM Kyoto convention stage sector 1996
(SAM National Convention organized by Japan) # 1 April magic close-up of the Year category in 1997
July FISM Germany tournament manipulation sector participation in 1997 (BS broadcasting) (Olympic magic once in three years)
(Magic first tournament in Taiwan) July Taiwan Formosa Magic Convention stage division championship 1998
# 1 August SAM Tokyo Conference close-up department 1998
(National Convention to be held in Osaka, Japan) # 1 Magic Convention Close-up department of Naniwa September 1998
# 1 August SAM Hamamatsu convention sector close-up 1999
November FISM Lisbon tournament domestic trial Special Jury Prize 1999
July FISM Portugal Lisbon tournament 2000 (BS broadcasting)
# 1 August SAM Nagasaki tournament close-up department, 2000
(Table magic contest sponsored by Nagoya University) # 1 April name large close-up contest 2001
(Yukie Nakama, Magic guidance to other Cast) February 2002 The Movie "trick" magic guidance
CDTV 2002 ? "In September Neo" appearance (played with YOU THE ROCK, broadcasting the magic guidance Landscape)
(Fine French restaurant one of Japan's) December 2002 Hotel New Otani "Tour d'Argent" appearance
July FISM Netherlands The Hague tournament 2003
Magic Convention guest appearances Naniwa October 2003
(Fuji TV laughter problem, Piko with your cedar, played with Fujiiakira) appearance problem pea male laughter August 2004
(Magic Trump is changed to a PR statement of securities) BS NTV Nikko Cordial Securities CM appeared in December 2004
August SAM Saitama tournament stage close up guest appearance, 2005
(Tournament to be held in Toba in central magic Federation sponsored) September 2005 ICM convention guest appearance
Aoyama Floracion hotel in December 2005 alone dinner show appearances (three-day Christmas Dinner Show)
(Cast only magician was elected by vote) March best magician festival appearance, 2006
(Cast tournament of SAM America headquarters, in front of an audience of 2000 people) July SAM Louisville convention guest appearance, 2006
August FISM Sweden tournament 2006
(Kyushu tournament of magic Federation sponsored) Kyushu magic Federation guest appearance in February 2007
October Chubu magic Federation guest appearance, 2009
September 2010 Tenyo Magic Festival guest appearance
October America Magic Castle magician members pass 2010
One-week appearance in April America Magic Castle, 2011
Sea Magic festival guest appearance in June 2011
South Korea Busan Magic Convention guest appearance in August 2011
September 2012 NTV "clean" raw appearance
Starring many wedding, company party, at a restaurant table magic, and so on.