AMAWARI KEN AND ARCADES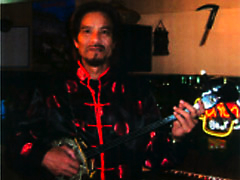 Okinawa folk song band

"Okinawa music and Ryukyu folk song" with which the conditions of a country cord overflows heals people's minds, and leads energies to tomorrow. Vocal sung out in a loud voice in tone with comfortable Okinawa samisen (three lines) and nostalgic somewhere compasses. Such a band with which the Okinawa taste overflows is Asa Wakiken and Arcaz.

< profile > Okinawa Prefecture Yonagusuku-cho coming from. Because "Three Cancara lines (Sanshin)" was gotten from father at 15 years old it, three lines are started. Performance activity in folk song bar in Koza (present Naha City) from 20 years old. It competed with the great master, Te Hayashi of the Ryukyu folk song field, and Aiko Watanabe et al., and two single records were released. It acquires it the license of the teacher of the Ryukyu folk song society in 1977.
It moves to Tokyo, it lives, and an energy and live activity is developed in a Ryukyu tavern in the metropolitan area etc. while holding the folk song classroom now.