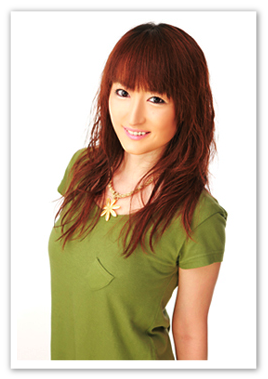 YOSHIDA Kahori
Free announcer/nutrition education gourmet caster/food analyst/talent/model

It debuts by the CNN caster, and as the field reporter of Fuji Television Network super-news, 400 digests the gourmet reports such as shops and limited gourmets whom the procession completes, and eats a lot of gourmets in the whole country of 700 every eight years through the science eye and 1 Nippon Television Network Corporation news plus reporter etc. of NHK in the school days there are news report and gourmet report [**].Cook license, eating habits adviser, barbecue beginner's class instructor, and food analyst's qualifications are made the best use of, and it is acting as a nutrition education gourmet caster now. Information magazine 'FOOBISM' writing of subscription food. Production related to food also.


The first authorization of ..qualification.. Chinese character classTwo calligraphy stepsTea ceremony [chatsuuhako] master Cook licenseEating habits adviserBarbecue beginner's class instructorFood analyst
Miss Pia ..career.. the 2nd university.
Literary [kaeibeibun] of Department of Literature at academic background Meiji University
Entertainment career TV
Fuji Television Network "Super-news" reporter (eight years).
TV Asahi "Early rising the first climatic & news" CNN caster (while half a year).
Nippon Television Network Corporation "News plus 1" reporter and narrator. - TV Tokyo "Personal computer express" reporter?- reporter and Fuji Television Network "Housing guide" narrator ??NHK (one year)"Science eye" corner caster and narrator (one year) ? and TV Tokyo?Large investigation. Indeed, Japanese?Reporter (three years) ? and reporter and Fuji Television Network "Good morning Ibaraki" narrator ??TBS (while half a year)"Explosion sports power" reporter
TV Asahi "Information map" reporterAnother
Drama
Bad..Onna..foretell..reporter..post.
Chairperson
Chairperson of Japanese small and medium-sized enterprise management support specialist society get-together party
[Garopa] Kaihin-Makuhari branch opening event "Nishiyama [**mare]" talk show MC?Ceremony chairperson of the 35th Kubota, Ltd. [minibakkufo-] anniversary
"Soichiro Tahara" lecture meeting chairperson
Gatherings of members of JA [ruma] ..it is.. [no] Tokorozawa regional pension fan club. ? "& of Akemi Misawa [kanmurijirou] collaboration concert"
Chairperson
Yurakuchou Mullion angel's 2009 illumination in promenade lighting ceremony chairperson
Tokyo marathon EXPO2010 doron presents "Truth [yamakeiko]" special talk show
Thai food fair chairperson
Taiwanese mango fair chairperson
KOSHIGOE SUMMER2010 [koshiko] curry symposium chairperson
Ajinomoto "Cafe" opening ceremony chairperson
BS Fuji broadcasting "Food cancer exposure of Nippon" campaign MC
HAPPY SHUFU FESTIVAL2010 superman chef club super-food seminar chairperson
Takasaki view hotel "Tatsuya Kawagoe" talk show & dinner chairperson
Chairperson of Hotel East21 Tokyo countdown party Another many
Magazine
Information magazine "FOOBISM" writing of subscription food
CM
- "Uptown" nurse post
"[Daimaru]" clerk post
Advertisement
High-level facial cleansing soap [tahi-bo] soap
[Aji] dumpling
Others
The announcement lecturer in the elementary school of Komae city
The singer activity and the radio actor activity also.
- We will wait for a new product development related to food and the request of production.