Magician
TAKAMITSU UCHIDA
Magic world of princes that the world has recognized.
I met Magic at the time of the 15-year-old, go devoted to the mysterious world.
Then, it monopolized the domestic major title in just five years for the first time the magic, shining in technique department of the champion in the "FISM world magic convention", which is said to be the Olympic magic kingdom in 1994.
Well-1995, was held in Germany, in the most prestigious in Europe "Magic Hands Convention", won the first Grand Prix as Asian.
Starting with this award, it plays a overseas, to hone its skills repeated appearances around the world.
The full-scale debut in Japan in 1997. Dinner shows and theater performances, we have been active in the center of the cruise show at the luxury liner. Called from the neat appearance as the "magic world of princes", guest-regular appearances to each TV program is also doing, you are expanding the playing field in many fields.
In recent years, in order to establish a new show style, stage a new sense that combines drama and magic, launching a "Doramaji (DRAMA & MAGIC)".
And, such as play a TV drama starring as lead actor in 2014, in endureth no creative motivation of thing and passion, also will continue to challenge the new areas, with the aim of further evolution.
Awards
1992 IMCN Magic Convention victory
1994 SAM World Magic Symposium victory
1994 FISM world magic convention technique division champion
Japan magic of the Year special rookie award in 1995
1995 Germany Magic Hands Convention Grand Prix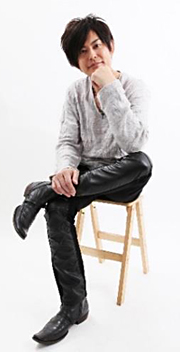 TV appearances history
Of the world magic show NHK
Youth expedition NHK
Good laugh Fuji TV
Who Takeshi even Picasso TV Tokyo
Night NTV in TOKIO
Mr. Malik super magic Orchestra TBS
Do~tsukingu 48 Kansai
99 plus NTV
Magic concert Korea MBC
Ronroba! Gold medal TBS
Kansai Jani Tsutomu Seki Jani ∞
MONDE's night Nagoya TV
Good luck! Anything Kanteidan spring SP TV Tokyo
Good morning is Asahi Asahi Broadcasting Corporation
Friday Variety NHK
Fierce fight! I rice Tokai TV
Gachigase NTV
Asian ace TBS
Magic Hall New Year's Eve specials Korean TV Korea
Star King Korea SBS
Is lunch! Fureai Hall NHK
TV regular appearances history
Ken Naoko of the'm down or TV Asahi
Motemote lock night RCC RCC Broadcasting
God of TIM homework RCC RCC Broadcasting
Honja in! Kansai Television
Kantere Kansai
SHOW appearance history
<DINNER SHOW>
Imperial Hotel Osaka
Westin Hotel Osaka
Rihga Royal Hotel Hiroshima
Fukuyama Grand Hotel
Okura Act City Hotel Hamamatsu
Hankyu Hotel
Fukuyama New Castle Hotel
Washington Hotel Plaza
Okayama International Hotel etc ....
<EVENT SHOW>
MRACLE DREAM (Ginza Hakuhinkan theater)
MAGICAL HOTEL (Tokyo Hotel Nikko)
MAGICAL NIGHTS (Okayama Tokyu Hotel)
Antique Shop (Hiroshima Aster Plaza)
Seven colors of the suspects (shed theater)
ALUBM (YMCA Hall) etc ....
<CRUISE SHOW>
Pashifikku-biinasu
Nippon Maru
Fujimaru
Other, Hall performances, art appreciation meetings, school festival, the event appeared a large number
overseas appearance history
LAS VEGAS / ITALY / FRANCE / SPAIN / NEW YORK / LONDON / SWITERLAND / BLACKPOOL / GERMANY / KENTUCKY / FINLAND / UKRAINE
and more ...
[Takamitsu MAGIC SHOW PV2015 Uchida] Video
https://www.youtube.com/watch?feature=player_embedded&v=bTFlrr8wPnI