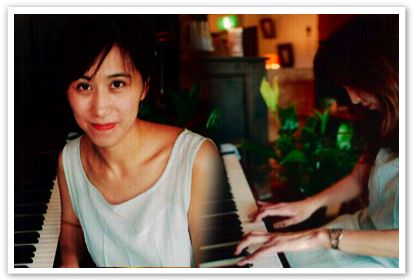 OGURA,Etsuko (Pf)
She is from Aichi Prefecture Okazai City.

She learned the piano from four years old and the electronic organ from ten years old. 1983/ Emirion nationwide rally special performance Emirion central 1982/ part district rally gold prize winning

She worked as demonstrator of Emirion when she was a high school student. She started the acts piano solo,piano playing talking,play with unit in the restaurant, the hotel, and the reception, etc while she attending "Aichi University of Education pedagogy music". department.She actively does the band activity at the same time.

After she graduated the scool stoped activity by finding employment,and restarted activity in Tokyo in 1996.

She is playing a piano solo and piano playing talking in the hotel, the restaurant, the bar, and the reception, etc and now supports he female vocal of Mr.Takanami Keitarou who was a member of "pizzicato five".
Main appearance hotel/Hotel East21 Tokyo / Asakusa View Hotel, etc.