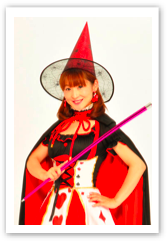 HITOMI,Nana
witch Tiffany database corps members
Bright spirit of challenge full song and dance is good at fine-
Solo debut as an idle world of magic. Good at stage magic, magic from the fingertip, rich woman magician repertoire of a large-scale illusions to Konasu.
The first single CD "witch legend / Tokimeki Doki!" Release.
Other, we will challenge "Escape restraint clothes hanging upside down" also "underwater Great Escape".
In addition, one of the few "Mizugei" also to learn in Japan.
fourth largest in the world.
guest appearances abroad, such as number of contestants and the world tournament.
Magic Castle appearance of Los Angeles Hollywood.
The special guest appearance in the 30th anniversary celebration, Prince Akishino Princess attend the indoor Green Party Association founded.
Both Prince, to show off the magic singing original songs
Entertainment career
· (company) Japan Association sponsored magic / Lisbon 2000 Japan tournament-winning stage department
2000-3-15 Tokyo Metropolitan Art Space witch corps graphics Tiffany special performance
"Witch Legend" Eye Nana First Live CD Release
2000 · 7 FISM Lisbon 2000 Magic tournament appearance
2001, 4, 17 Tokyo Metropolitan Art Magic & Musical "witch legend 2"
It is tradition of performing arts 2001-4 Japan-specific than "Mizugei" Gamatsu AsahiHitoshi Tenakatsuki teacher.
2001-8 International MAGICCONVENTION (Hong Kong tournament) guest appearance
2002-5-29/30 National theater, magic & musical "witch legend 3"
The special guest appearance in the 30th anniversary celebration, Prince Akishino Princess attend the 2003 party-7 Indoor Green Association founded.
2004 - 3/30 Magic & Musical "witch legend 2004" Kannai Hall
4/1 Magic & Musical "witch legend 2004" Asakusa Public Hall
2004-7 Internet broadcasting station there! " Very popular magic course start of the broadcast station "Eye Nana surprised
2005-7-21 Tokyo Metropolitan Art Space, Magic & Musical "witch legend 2005"
2008 · 9.25 Takinogawa Kaikan Hall musical magic "witch legend / ghost Edition"
2009 Korea-8 [Busan International Magic Competition Activation] guest appearance
2010 1.11 to 17 American Hollywood "Magic Castle" appearance
5 movie "The Movie Trick Battle Royale" Mizugei guidance
CM TV appearance "yakisoba Ippei-chan stalls" 8 to Myojo Foods
Second fifth Wednesday 10 to each month, broadcasting station, the Witch corps regular appearances that gee-whiz "Internet TV
11 NHK "Friday Variety" raw appearance
2011.8 / 29-9 / 4 Los Angeles Hollywood "Magic Castle" appearance
appeared in magic and the chorus and Mino Monta Mr. Dance Dinner Show
Ottoman Sao Conrado and database Tiffany joint show appearance
performance participation Arts Festival organized by the Agency for Cultural Affairs, at the Tokyo Metropolitan Art Space [A ConsertofILLUSION] [Image] Other appearances.
performance participation Arts Festival organized by the Agency for Cultural Affairs, in the National Theatre entertainment hall [Shin KitamiMAGIC LIVE] appearance.
Appeared micro Illusion north sewing machine performance participation Arts Festival organized by the Agency for Cultural Affairs, in a small theater in Ginza.
The performance and graphics Tiffany Shin Kitami, in the Ginza Miyuki Hall [Minis] live appearance