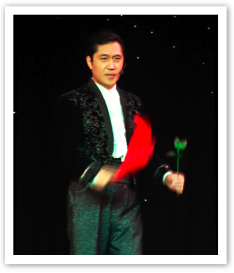 NAKAJIMA ,
Hiroyuki
Nakajima Hiroyuki debuted as "Trump Man" to the popular program "Naruhodo! The World" during the student university in 1991.
"Trump Man No. 2" and after, he was the world by storm in the style that hides the real face. He became independent in 1996 based on the experience of a number of program production.
He is currently, from the TV continues to primarily own expand the live apart.
He creativity development training that applies the magic, has worked also communication skills up courses, etc..
His dignity and grace, and full show to humor, is the only matchless style that has been cultivated for many years in the luxury liner cruise at home and abroad.
Not only strange, do you have that it was seeing a show that is shaken the mind?
Anyone that can even, shallow magic of lively and bottom would not take place.
We deliver a difference elegance up a notch that can be recommended for those who can see the full elegant show.

<Cast career>
~Cruise Ship~
Nippon Maru, Fujimaru
Pacific Venus
COSTA VICTORIA, etc.
~TV program (Cast and production)~
Suttkiri
Kin-chan costume Award
Naruhodo! The World
Waratte iitomo !!
Tunnels Minasan no okagedesu
Parlor tricks tournament
World voyage
Enchanted Cruise Journey, etc.
~Theater performances~
Nutcracker (Drosselmeyer Auditor)
Tokyo indoor opera Opera
Gunma Symphony Orchestra Family Concert, etc.
~Other~
French Embassy, Ferragamo, Armani, Sehora, TOYOTA, Kikkoman, Microsoft
Panasonic, Kumamoto University Elementary School, Daito Bunka University, Bunkyo University, RIHGA Royal Hotel Tokyo,Chinzanso, Japan magic Association regular performances, etc.,
and various other private party number