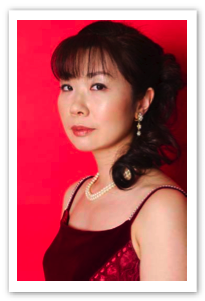 KOUSAKA,Yoko (Pf)
Tokyo College of Music graduate
[Major performance activity]
Prince Hotels
Royal Park Hotel
Shiba Park Hotel
Asakusa View Hotel
ANA InterContinental Tokyo
Sheraton Miyako Hotel Tokyo
Imperial Hotel Tokyo ;
lounge, bar, and a bridal party venue, etc..
The active around the house and live jazz piano music in the foyer at the dinner show other.
[Cast destination recent]
Shinjuku Jyojyo-en Odakyu Hulk
Akasaka piano bar Mori no uta
Shinjuku Club Ranka
Ikebukuro cafe Bonafe
Appeared etc..
Also, She is also involved in the work of music therapy.
Mainly in jazz, standards, pop movies and music, playing a wide range.