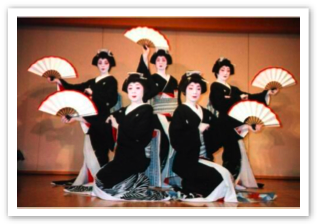 KATSUMI KAI
This is the group that has gathered over each style and I think I think Katsumi meeting , I want everyone to enjoy more and more Japanese dance real , and I want you to watch again .
Formed in 1974 , we are active in and stage a variety of events to date .
Features of Katsumi meeting will show us briefly and gracefully traditional dance , ( Fujimusume - Kyoganoko Musumedojoji Leng lion , , , etc.) of classical dance . And, of course , to dance in the Western from the fact that from the members is also a theater from Takarazuka , Shochiku song team , day-to-day drama , etc. will show us the stage with the tempo of change quickly , such as luxury of costume .
Location that appeared to date acclaimed worked extensively PR of Japan Kokeraotoshi of theater , founding anniversary of the company , levee of people of foreign countries , exposition , of at foreign , in the package show of the singer is , it is dance group of the few professional in Japan .

< Main appearance >
( Foreign performances )
September 2006
Honda Co., Ltd.
Honda Dubai Dubai Open celebration
November 2007
Yamaha
Yamaha Motor recital
Domestic performance
Nagano Olympic
Kodak Co., Ltd.
Foreign invitation during the Olympics in Kodak Hall
NBA World Congress
New Takanawa Prince Hotel continuous Lion
Intercity Baseball
JR East
2008 Tokyo Dome continuous Lion
Kyocera Dome choreography 2011
< Repertoire Introduction>
Ream lion and ( to same Ren )
The continuous lion was Kabuki dance of Noh " Ishibashi " the Shakkyo ] , parent - child lion lion appeared . Representation of the test to the violent child and information deep parent and child in the first half , the lion dance and imposing and intense match the breath of parent - child lion lion in the second half . These two enjoy , our popular songs .
>Kyoganoko Musumedojoji ( Kyoganoko daughter Dojoji )
Played first given the title of best " repertoire Japanese dance world , the best " or " the culmination of female impersonator dance " , long epic song is [ Kyoganoko Musumedojoji ] , those that aspire not only in Japan but also dance fan , a Japanese dance house There are a classic that can not let go to catch CONTENTS INTRODUCTION , many humans .
Fujimusume ( Fuji daughter )
As a repertoire of traditional Japanese dance , too famous a song . And I think in May I say in Japan amateur dancer , and song , which becomes the object of longing in particular . It is enough to get one song pomp of stage equipment , the beauty of the costumes , the longing .