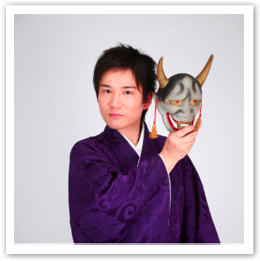 FUJIYAMA
TAIJYU
Fujiyama Taiki is a successor of the few Magic Japan tradition of " Tezuma " .
His interest in magic in high school , and a member of the magic circle of the university at the same time as the Hosei University admission , to meet the stage magic . I won the prize in the contest various magic of creativity and beautiful expression in 2009 . I started on the path of professional magician with Shintaro Fujiyama studied with artists that have been awarded the Agency for Cultural Affairs Arts Festival Grand Prize at the same time as the college graduation in 2010 .
Tezuma creation that uses a surface " seven changes " is well received in the world as well as Japan .
Fujiyama Taiki will play is not performed remains a classic Tezuma is a classic , while leaving the format of the said and the " type " and " resemble " Taking advantage of the young idea , to create a work speedily . And what the common people of Edo fun to the audience , and I think that happiness , tells through Tezuma Did you dream .

Born in Tokyo in 1987 / 12 December 4th
2007/ 09 The 49th Tenyo Magic Festival guest appearance
2009/ 02 The 54th National magic lovers social gathering highest award
# 1 2009/ 05 4th Shikoku Magic Convention
1 in 2009/06 INTERNATIONAL MAGIC EXTRAVAGANZA ? in MALAYSIA
2009/ 06 8th Japan Sea Magic Festival Grand Prix
25th Anniversary tournament shallows Kiyo negotiations 2009/ 08 9th World Magic Seminar ASIA UGM birth
2010 / 03 , Japan magic Association sponsored the 9th best Magicians Festival appearance
2010 / 03 Hosei University graduation
He studied in 2010 / 04 Shintaro Fujiyama nurses
( Public utility association corporation currently ) 2010 / 04 , Japan magic Association membership
10th Best Magicians Festival appearances 2011 / 02 , Japan Association sponsored magic
# 3 of 2011/08 FISM domestic trial , JCMA Award , Japan magic Association Special Award
2011/12 FISM ASIA FISM2012 finals participation decision
He has performed at stage 2012 / 06 Theatre Creation in " Tobikatou "
Played for Olympic FISM in England Blackpool Japan representative of the 2012 / 07 magic world
Renamed to Fujiyama Taiki revised 2013 / 02 Kobayashi large