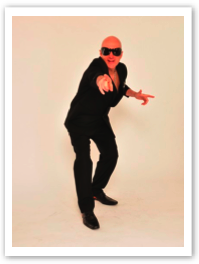 STUART-O
Including NHK Purekiso English, and the television appearance as such reporter.
And working as a voice actor, such as NHK Sushitaun anime and games and educational radio, high-tension system Japanese CM and television narration Natural interactive system English CM narration also numerous.
Kids song as a singer, sang a TV CM, also lyrics translated into English, such as many anime theme song.
Also served as 20 years or more of bilingual event MC, I do kids live show included all of the above, and events live nationwide.
On the other hand, was cast appeared in movie 5 work, including the movie "Judge", but also major works appeared at a pace of about one to two years.

The main activities of history ~ ~ children
educational TV appearance !
NHK " Purekiso English "
" English in Corpus 100 ! " NHK!
NHK " Happy English : English lab of Stuart -O !"
NTV " cahoots Nai : Private Photo English entertainer " MC!
educational radio appearance !
NHK Radio "Basic English # 3" !
NHK Radio "Basic English # 2" !
events appeared to be child-friendly event held - held
Ion Town Marui family VINAWALK and ion series Aeon Mall , BONPOINT LONDON CALLING, BMW, AVEX Mamafesu , AVEX dance
Master x Human Academy , FQ Men cum Festa , Sonic quickly Marr , LAZOO, OSH KOSH & Cartiers, Ginza MINI, more!
Children's CM, game voice actor , and songs
McDonald's " Happy Set" TV CM Japanese narration !
Japanese character voice narration KUMON TV & radio CM of "English" !
NHK TV A petit anime " Eddie " character voice cast ( English ) !
SEGA game character voice ( English ) !
Nintendo Wii game character voice ( English ) !
Yamaha English education content character voice !
VICTOR · JVC " Marimokkori BEST CD " character voice ( English ) !
Benesse English education content character voice
SANRIO JAPAN HELLO KITTY song " ALPHABETS DREAM " chorus vocal produce !
NHK Educational TV program " Happy English " education band " THE PHONICS " play Nakauta lead vocal !
" STUARTO KIDS GREATEST HITS " original CD

<Official WebSite> http://stuarto.jp/