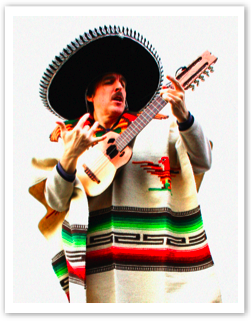 LUIS SARTOR
1952 , I was born in Argentina Santa Fe Province .
1978 , Japan as a member of the Japan tour of master Antonio Bantoha of Qena .
1985 , Maestro was transferred to Japan his base of operations , to play an active part in order to spread to Japan the appeal of Latin music since . Manipulation to freely mandolin , charango , guitar , keyboard , percussion , I show a variety of talent as a singer- songwriter . The music and soundtrack Kuwata Keisuke has served as the director of " Inamura Jane " , album of the Orquesta de la Luz , which was nominated for Grammy Award in the " Best Latin Album " in 1995 to "La Abento~ura " it provides , both big break !
Furthermore, the songwriting cheer song to send to Japan national football team in 2002 in the " FIFA World Cup " , Luis Sarutoru , also known as soccer fans die released " VIVA Japan" .
Active in a wide range of musical activities beside , DJ Inter FM of (76.1MHz), narration of the CM, and translation of Spanish .
His books , some revolutionary instructional book " charango master " .
In 2007, the composer in charge of music that was used was released from Konami Digital Entertainment Co., Ltd. in the " World Soccer Winning Eleven 2008 " , arranger , and producer .
I also worked on music documentary on the Latin immigrant living in Japan , which was announced in 2007 of " Voces Latinas " .
It is a multi - talent in Latin spirits heat ... character and bright abysmally , has caused a great sensation in Japan .
Artists - that was co-produced in the past -
SMAP, TUBE, Kuwata Keisuke , Akira Fuse , Yu Aku , Sakazaki Konosuke , Kazuhiko Kato , south snowfall , Saijo Hideki , Yukari Ito , Aki Yashiro , Yoichi Sugawara , Machiko Watanabe , Takeshi Kobayashi , Hitomi Shimatani , Tokiko Kato , Ken Tanaka , PONTA , Okura Shonosuke , Carlos Kanno , Alberto Castle between Segi TakashiSusumu , Saeki Anna , Ryota Komatsu , above each typhoon , herb Ohta , Orquesta de la Luz , NORA, Orquesta del Sol , COPA SALVO, SAIGENJI, KOBA, BOM BOM BLANCO, CHICA BOOM, CHUCHO DE MEXICO